February 2020
February 16 | Harold Gifford and Al discuss the crash, and subsequent rescue, of a DC-3 flight on January 17, 1960, that was carrying 23 people including the Minneapolis Lakers.
February 9 | Dave Wendt, host of the EAA Proficinecy 365 Seminars at Thunderbird Aviation – Flying Cloud, joins to talk about how current pilots can continue to maintain their proficiency level.
February 2 | Mike Collins, AOPA's photojournalist, comes on the show to discuss the history of aviation in Ohio.
January 2020
January 26 | Stan Ross is this week's guest on The World of Aviation.
January 19 | Michael Robbins recounts his flight from one year ago when he had to make an emergency landing off 1-35 in Stacy, MN.
January 12 | David DeVries is this week's guest on The World of Aviation.
January 5 | Chuck Cook joins the show to recount his story of survival following an in-flight fire in his T-28 Trojan.
December 2019
December 1 | Bill Jansen joins the show to discuss his purchase and training of a Czech L 39 training aircraft.
December 8 | Thomas Haines speaks with Al about the tragic crash of a B17 Flying Fortress on October 2, 2019, that resulted in the loss of life for 7 of the 13 passengers.
December 15 | Bruce Campbell shares on his decision to purchase a 727-200 airliner in 1999 – and his decision to make it a home!
December 22 | Chuck Datko, founding member of the T-6 Thunder Flight Team, joins the show.
December 29 | Terri Donner, longtime UPS Captain, joins Al to discuss her first flight and career in aviation.
November 24, 2019
Gordy Lewis and Al connect on this week's World of Aviation. Gordy, who just retired from flying, talks with Al about their shared aviation history and Gordy's hundreds of Angel Flights.
November 17, 2019
On this week's World of Aviation, Al speaks with Dom Bouvet. Dom, a Delta Airlines Captain and partner in Universal Safety Solutions, recounts growing up off the coast of Madagascar, his coming to the United States in 1965, and his lifelong love of aviation.
November 10, 2019
Mark Baker joins the show this week to speak with Al about his current position as the President of Airplane Owners and Pilots Associate (AOPA), being only their fifth president in 80-year history, and together reminisce on growing up with Sherm Booen and The World of Aviation on Sunday mornings.
November 3, 2019
Bill Bittman stops by World of Aviation this week to speak with Al on his Minnesota upbringing, his interest in aviation and  decision to enter the Naval Academy, and his following 35-year Naval Aviation Career.
October 27, 2019
Bob Wander joins Al this week on World of Aviation to discuss the world of gliding. Bob, author of 13 books on gliding (among other aviation books) and the recipient of the Warren Eaton trophy, recounts his time learning learning to fly and how he came to be deeply entrenched in the world of gliding.
October 20, 2019
On this week's World of Aviation, Kiman Kingsley and Al discuss his varied aviation career in hot air balloons, recent purchase of a Howard aircraft, and his flight school that specializes in teaching students crop dusting.
October 13, 2019
Jerry Schemmel, known for his play-by-play broadcasting for the Minnesota Timberwolves, joins Al to discuss his book Chosen to Live, the harrowing story of the United Airlines Flight 232 Explosion on July 19, 1989, and his first-hand account of surviving the catastrophe.
October 6, 2019
Al is joined this week on World of Aviation by Dick Phillips, one of the foremost authorities on the North American P51 Mustang and their long history in American aviation.
September 29, 2019
On this episode of World of Aviation, Steve Bulwicz joins Al to discuss the various planes he flew during his Navy career, his transition to the airline industry, and some of his other passions!
September 15, 2019
Elias "Double-A" Andrews, Academy College's Dispatch Program Coordinator and Chief Dispatch Instructor, sits down with Al to discuss his background and the military and civilian dispatcher career that led to working for Academy College.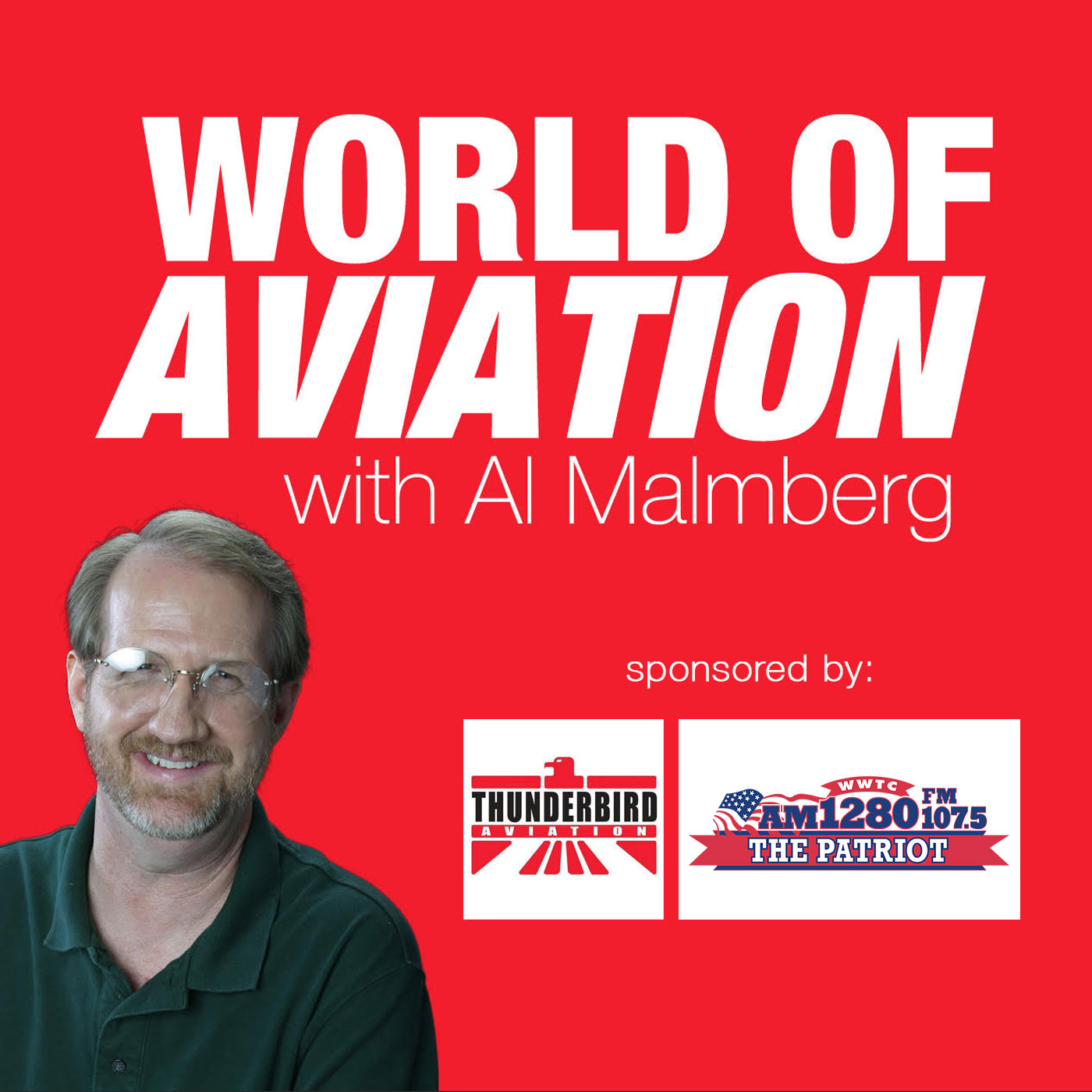 September 8, 2019
Brigham Nelson and Jessica Anderson, the 2018 and 2019 recipients of the Academy College Sherm Booen Scholarship, join Al this week to discuss their love for aviation and beginning of their pilot careers.
September 1, 2019
Joining Al this week is Walt Fricke, founder of the Veterans Airlift Command, which provides free air transportation to post 9/11 combat wounded and their families for medical and other compassionate purposes through a national network of volunteer aircraft owners and pilots.
August 18, 2019
This week's guest is JR Olson, co-author of the recently released thriller Rules of Engagement, and a graduate of the United States Naval Academy. JR worked for 20 years as an intelligence officer in the Navy, and now teaches college courses in intelligence, weapons of mass destruction, and counterterrorism.
August 11, 2019
Terri Donner, a long-time Pilot for UPS, joins World of Aviation this week to discuss her flight training, which started at 17, and career path to becoming a Captain for UPS.
August 4, 2019
Al is joined this week by Noel Allard, author of Minnesota Aviation History, to discuss the beginnings of flight in Minnesota in the 1800's, the excitement of the barnstorming era following World War I, and much more.
July 28, 2019
Dave Weiman, the publisher of The Midwest Flyer, sits down with Al to talk about the recent EAA AirVenture in Oshkosh, WI.
July 21, 2019
On this week's World of Aviation Podcast, Doug Nordmeyer, a native of Richfield, MN, joins Al to discuss his numerous adventures flying off air carriers as a Naval Aviator.
July 14, 2019
On this episode of World of Aviation, Al sits down with Dr. Harold Brown, a Tuskeegee Airman in WWII who went on to join the Strategic Air Command and combat racism in the United States.
July 7, 2019
On this episode of World of Aviation, pilot Gordon Lewis speaks to Al about his experience flying over 300 Angel Flights – and he started flying at the age of 67!